Modern lighting brands have revolutionized the way we illuminate our spaces, adding an extra touch of style and sophistication to any interior design. These brands have pushed the boundaries of creativity and functionality, offering innovative and state-of-the-art lighting solutions that are both energy-efficient and aesthetically pleasing.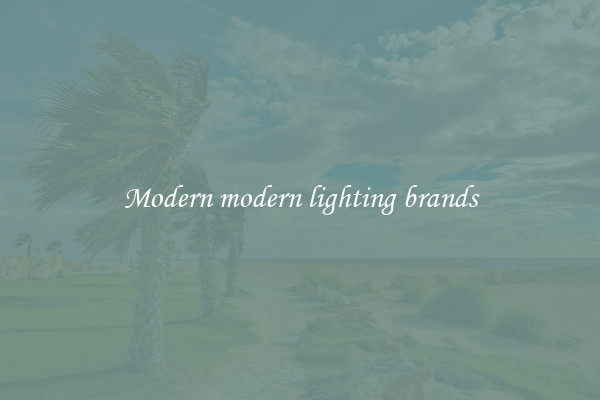 One of the leading modern lighting brands is Philips Hue. Philips Hue is known for its smart lighting systems that can be controlled via a smartphone or voice commands. With a wide range of color options and adjustable brightness settings, Philips Hue allows users to create personalized lighting experiences for different occasions and moods. Whether it's a cozy warm light for a romantic dinner or a vibrant color scheme for a party, Philips Hue can transform any space into an immersive and dynamic environment.
Another notable modern lighting brand is Artemide. Artemide specializes in contemporary lighting fixtures that blend functionality and artistic design. Their collections often feature sleek and minimalist designs, making them a popular choice for modern, minimalist interiors. Artemide's lighting fixtures are not only visually appealing but also highly functional, with features such as adjustable lighting angles and dimming options that allow users to optimize lighting according to their needs.
Flos is another prominent modern lighting brand that has gained worldwide recognition for its iconic designs. Flos collaborates with renowned designers and architects to create lighting fixtures that are both functional and visually stunning. Their collections often feature unique shapes and materials, adding a touch of elegance and sophistication to any space. Flos offers a wide range of lighting solutions, including pendant lights, floor lamps, and table lamps, making it a go-to brand for designers and homeowners alike.
In recent years, modern lighting brands have embraced sustainability and energy efficiency, incorporating LED technology into their designs. LED lighting not only consumes less energy but also has a longer lifespan, reducing waste and the need for frequent replacements. Brands like Louis Poulsen and Moooi have embraced LED technology, offering a wide range of energy-efficient lighting solutions without compromising on style and quality.
When it comes to modern lighting, the options are endless. Whether you're looking for smart lighting systems, artistic designs, or energy-efficient solutions, modern lighting brands have something to offer for every taste and requirement. Their innovative designs and commitment to sustainability have transformed the lighting industry, making it possible for us to elevate our spaces with stylish and functional lighting options.