Wholesale Hole Saws: Available In Various Types And Diameters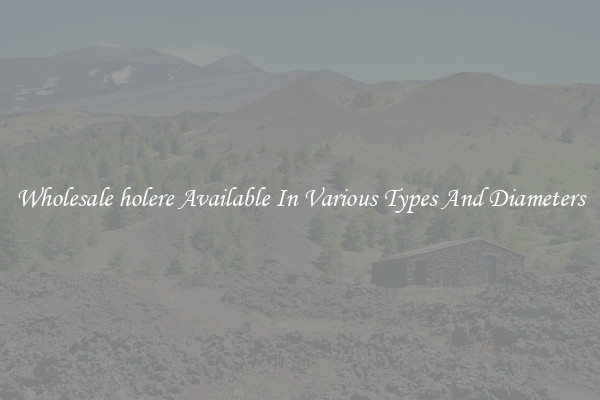 Hole saws are a versatile tool widely used in the construction and home improvement industries. They are perfect for creating clean, precise holes in a variety of materials such as wood, metal, and plastic. If you are a professional contractor or DIY enthusiast, purchasing these tools in bulk can be a cost-effective solution. Wholesale hole saws are readily available in various types and diameters, catering to a wide range of applications.
One of the primary benefits of buying hole saws wholesale is the cost savings. Purchasing in bulk allows you to take advantage of discounted prices, allowing you to get more for your money. Whether you need a few hole saws for a specific project or regularly use them in your line of work, buying them at wholesale prices can significantly reduce your expenses.
When it comes to selecting hole saws, it is important to consider the type and diameter suitable for your needs. Hole saws come in various types, each designed for specific materials or applications. For example, bi-metal hole saws are perfect for cutting through metal and wood, while carbide-tipped hole saws are more suited for cutting through abrasive materials like ceramics, tiles, and cement board. Diamond hole saws are specifically designed for cutting through hard materials such as glass, porcelain, and granite.
Diameters of hole saws also vary, ranging from as small as ¼ inch to as large as 6 inches or more. The diameter you choose will depend on the size of the hole you need to create. It is essential to have an assortment of hole saw sizes to ensure you can tackle any project efficiently. Buying hole saws in bulk allows you to have a variety of sizes readily available, ensuring you are always equipped for the task at hand.
When purchasing wholesale hole saws, it is crucial to source them from reliable suppliers. Look for suppliers that offer high-quality, durable hole saws from reputable manufacturers. This will ensure that your tools are long-lasting and can withstand the demands of heavy-duty projects.
Another aspect to consider is the warranty offered by the supplier. Reputable suppliers often provide warranties on their hole saws, giving you added peace of mind regarding the quality and performance of the tools you are purchasing. A warranty can be particularly beneficial if you encounter any defects or issues with your hole saws during their lifetime.
In conclusion, wholesale hole saws are an excellent investment for professionals and DIY enthusiasts alike. Buying in bulk allows you to save money while ensuring you have a wide selection of hole saws readily available. Consider the specific type and diameter of the hole saws you require for your projects, and source them from reliable suppliers that offer high-quality products and warranties. With the right selection of hole saws, you can tackle any drilling task with ease and precision.